What got me started on the road to refinishing and modification was a heart attack on March 22, 2003. I had so much damage to my heart that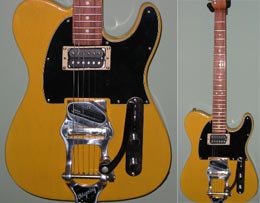 I had to stop several of my more physical hobbies and look for something else. Since I play guitar, this seemed like the natural thing. It has been really good therapy and I enjoy the satisfaction of a finished product.
My first tele was a Warmoth body (swamp ash) and neck (mahogany with pao ferro fretboard) that I finished in Butterscotch Blonde (nitro lacquer) and the neck just has clear applied. I also installed a Bigsby onto it. The pickups are DiMarzio humbuckers (Fast Track in the bridge position and Bluesbucker in the neck position).
For the second project, I wanted to try something with catalyzed urethane. I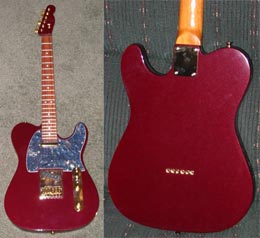 found a color I liked called Dark Hunt Club Red, a Dupont color. I had an old Squier body here at the house that was not in the best of shape, so I stripped it down and proceeded to paint the body. The neck again was from Warmoth (mahogany with pao ferro fretboard) and I painted the top of the headstock to match the body. I used all gold hardware on this one and put Black Diamond strings on to finish it off. The pickups were made for me by Curtis Novak to vintage tele specs.
Third project is still in the works. I wanted to build the body and neck myself on this one. I started with some poplar that I laminated together and then applied a flame maple drop top. I then cut it in the Tele shape, routed
the pickups and control cavity (from behind), and cut out the neck slot. I also made my own cover plate for the control cavity from a pickguard blank.
For the finish on this one, I wanted to try something new again, so I decided to use dyes. The top will be green with natural binding and the back and sides will be black lacquer. I plan to use DiMarzio pickups once again. I currently have the color done and have 6 coats of clear. More pics as I progress. Once the body is complete, I will start construction on the neck. I am going to use a maple neck and fretboard on this one.