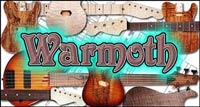 andy's vote for the best place to score a replacement body also goes to Warmoth. There are a ton of places to get Fender licensed Telecaster bodies out there, but she likes to work with Warmoth just because of their customer service department and they're reputation for using TRUE Fender specs. They offer custom orders, but if you're looking for specific vintage specs Warmoth delivers. They offer both Telecaster and Thinline bodies sold the way you want them - either just the blank or predrilled and in several wood options.
They offer alder, ash, basswood, koa, black or white korina, maple, mahogany, poplar, rosewood, swamp ash, and walnut. They'll customize a body any way you want - anything from white binding to a curly maple laminate top, they'll do it with no fuss. They do offer finished bodies but they only offer a poly finish and do not deal with nitro. Some of the top Telecaster builders in the USA use solid one piece swamp
ash Warmoth bodies for their kit guitars because of their quality - as a matter of fact, Mandy learned of Warmoth through Jay Monterose, masterbuilder and guitar tech to the late great Danny Gatton. Again, we're not associated in any way with the Warmoth company - this is all just personal opinion and experience from Tele lovers!